Attendance at EAG Expo 2023 at ExCeL London was up 36 per cent on last year.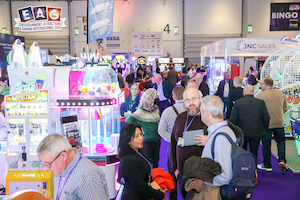 Show organisers have confirmed a show attendance of 3,469 compared to the 2,548 recorded in April 2022, the last edition of EAG, with enthusiastic feedback received from most of the 72 exhibitors.
EAG chairman Martin Burlin said: "This was the first edition of EAG following the decision to bring organisation in-house and I am delighted at the quality of delivery as well as the positive feedback we have received from exhibitors.
"Show director Nicola Lazenby succeeded in providing the industry with a professional environment in which to socialise, to network and, I'm happy to say, to do business.
"This edition saw the introduction of two new show features in the form of the Safer Gambling Hub and the Bingo Hub - both of which were extremely well received.
"The EAG Learning Programme featured some very well-attended seminars and we are actively seeking feedback from the industry to identify ways in which we can enhance further both attendance and engagement.
"Change is never an easy process but I believe that we have succeeded in providing a solid platform for the on-going development of EAG."