EAG Expo in January 2024 is to celebrate 50 years of UK trade association Bacta.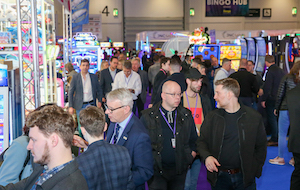 An international audience of VIPs and dignitaries from trade associations representing the amusements industry in countries including Austria, Croatia, Germany, Ireland, Italy, Montenegro, Netherlands, Romania, Serbia, Spain, and the US, as well as sister bodies from the UK, will gather at January's EAG Expo to join celebrations marking the 50th year of UK trade association Bacta.
EAG will "go gold" as the leading amusements and low stake gaming expo serves as the launch-pad for what will be a year-long programme of 50th anniversary events.
EAG chairman Martin Burlin believes that the industry show provides an ideal backdrop for the celebrations.
He stated: "Bacta's ownership of EAG means that every policy decision and every show initiative has been and will continue to be taken only in the best interests of Bacta members and of the industry as a whole.