The UAE's biggest theme park, Motiongate in Dubai, will reopen for business on September 23, the operator, Dubai Parks and Resorts, has reported.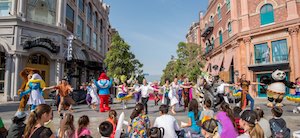 The Hollywood-themed park is the first of the operator's venues to reopen after the Covid-19 restrictions had been eased, but there are strict protocols in place to ensure safety of guests.
DXB will also open its Lapita Hotel at the venue at the same time, but there is currently no word on the reopening of its other locations, the Bollywood Park and Legoland with its water park - all also in Dubai.
Local newspaper the Khaleej Time, reports that the park is offering two-for-one tickets to UAE residents up to October 31.