TouchMagix has revealed it has a driving redemption game in the pipeline called Drift and Thrift.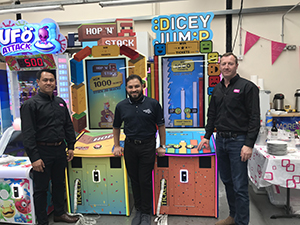 In this game, players need to "escape the cops," explained the company's CEO Jayeh Kariya, "and as you drive you collect points and tickets along the way."
Kariya told InterGame about the new game while exhibiting the company's latest wares at the Park Avenue Open Day in London, UK.
The machines the company had on show included Dicey Jump, where the player needs to jump from platform to platform without falling off.
"This is very easy to learn but difficult to master. One thing we were careful to do was make sure the player always sees where they went wrong, and learn from that mistake and try again. It has a lot of repeat play value in that way," he said.
The machine is doing well in arcades, arcade bars and street locations, Kariya reported. Manufactured in Wisconsin, it is naturally doing well in the US. "But we also have significant sales in the UK, India and we are in talks with BANDAI NAMCO for Japan," he said.
Also on the stand was Hop and Stack. As platforms move toward the player's avatar, they need to jump at just the right time to avoid being pushed off. "At the beginning of a game, we made this slightly easier than traditional stacker games, so every player feels they get value for their dollar," he said.