Bob Iger, the CEO at Walt Disney has vowed that his parks aren't going down the VR route that others have, he revealed at a New York conference.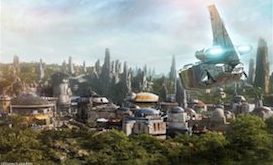 "We're not trying to fake immersion, we're trying to make it as real as possible with as much scale as possible," he said.
He claimed that VR doesn't impress as much as re-creating an actual place and making guests feel as though they are actually "in something," as they will when visiting the likes of Star Wars: Galaxies Edge (pictured) which opens this year.
While championing Disney's work on its Cars Land at California Adventure Park and Pandora — The World of Avatar at its Animal Kingdom park in Orlando, Iger said that "There's a wow factor there that is much greater than what you could ever achieve with VR,"
Iger's comments come at a time when other theme parks have shelved VR upgrades to rides after issues caused by the delays due to headset cleaning. Many guests also prefer the traditional coaster experience.
Iger did praise this company's AR attraction at Animal Kingdom, saying, "There's more opportunities for that."