Despite having no precise dates for the 2021 DEAL show, the organisers, International Expo-Consults, report a constant flow of support for the event.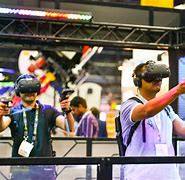 The show, cancelled this year through the Covid-19 pandemic, is set for March in 2021 at the World Trade Centre in Dubai. The dates currently held by the organisers fall towards the end of March, but IEC is working with the venue to try to bring the event forward into the middle of the month rather than coming too close to the Easter holidays.
Nevertheless, the company reports a steady stream of bookings for space at the show, many of them from companies that have not exhibited previously. The latest include Italian trampoline supplier Guzzi Eugenio, a return from the UK's Rainbow Productions, Brogent Technologies from Taiwan and electronic ticketing specialist Vivaticket from Italy.
Indian newcomer Guardian Media and Entertainment, specialising in personalising attractions at parks and FECs, will be there and US company Inflatable Depot is bringing its custom designs to Dubai.