Entertainment and dining chain Dave & Buster's is to open a new location in Atlantic City, New Jersey in December.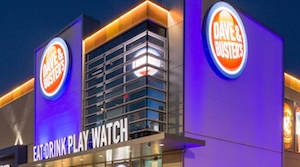 The venue will have more than 100 arcade games and a sports bar with a 40ft screen.
The site was previously occupied a sports bar and lounge owned by Jay-Z.
It will serve lunch and dinner and offer beer, wine and cocktails.
It is due to open on December 11.
Dave & Buster's has 157 locations in North America and Atlantic City will be the fourth in New Jersey. Last year, the company acquired rival chain Main Event, which has 58 locations in the US.