Creative Works recently installed an immersive laser tag experience at Thrills Laser Tag and Arcade, an FEC based in Destin in the US state of Florida.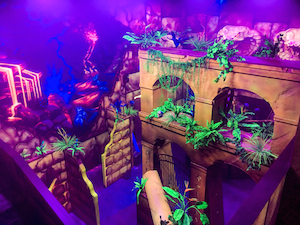 The installation is a 3,300sq.ft, two-storey arena, with walls covered with hand-painted murals depicting dilapidated stone structures and erupting volcanoes. Up to 24 players can join in. Additional features include four large stone cobra heads overlooking the arena and graphics depicting lava pits in the floor.
"Todd Whitney (owner of Thrills Laser Tag and Arcade) was very instrumental in describing what he wanted and how he wanted it to be," said Creative Works' creative experience broker Marsha Brentlinger. "He said it had to be 'over the top', by far the best arena we'd ever done."
Creative Works president Armando Lanuti said: "It was a privilege to work with Todd Whitney again. He had extremely high expectations for this project and really challenged our team to deliver something over-the-top. We're proud of the final product and it's easily one of the best arenas we've ever built."
The level of theming Whitney demanded led to Creative Works seeking expertise from Delta Strike, a laser tag equipment provider.
"We worked with Delta Strike for a lot of special sounds and a lot of special triggering effects," Brentlinger added.