Attraction manufacturer Creative Works is celebrating after securing second place in the Best New Product Award in the Virtual and Augmented Reality category at this year's IAAPA Expo for its Limitless VR attraction.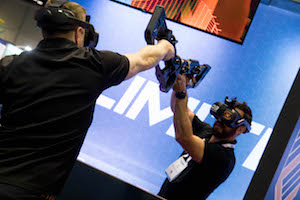 It is the second year in a row that the company has won a Brass Ring Award, with Lucky Putt taking the honours last year.
Limitless VR is a free-roam virtual reality attraction with unique arena tracking technology. It means physical objects and props within the play space are tracked, letting players see and touch their environments for an immersive adventure.
It was first unveiled at IAAPA Expo 2021 and this year Creative Works announced stand-alone formats for the attraction, which will come in both eight and 16 player variants.
Limitless VR also includes smartphone assisted advancements, meaning that guests can register directly on their phone then scan a QR code when it is their turn to play, speeding up the process.
Installations of the stand-alone format of Limitless VR will begin in January.