Heading for the IAAPA expo in Orlando, Florida, US, next month, Connect&GO will exhibit its latest advances in technology.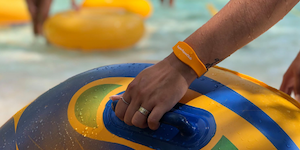 The cashless payments and management systems experts will also introduce newest team member, Tara Morandi, the former ProSlide executive, with 15 years' experience in the attractions industry, now with the Canadian company to look after North American and European development.
Now the company has firmly established itself in the attractions business with its Play&Go and Konnect RFID products, providing flexible solutions for operators, it is making significant inroads into the leisure business.
Although it started as an alternative offer for in-person meetings, Connect&GO now has 96 per cent of its business in the attractions industry.
It offers access control, cashless payments and sponsored activations through wristband technology. This includes an ability to carry out background checks and credentials for anyone involved in an event.
Anthony Palermo, co-founder, said that after several years in business, Connect&GO was very well-known in the entertainment industry, but not in the attractions industry. "We tweaked our products to reflect the family market and then along came the pandemic. Covid-19 gave us the chance to pause, rethink and retool," he said.
Now with its Play&GO and Konnect products, the company is well-placed to expand its influence across North America and the Atlantic.