Summer Entertainment City in the Doha Exhibition Centre, Qatar, has been staging a spectacular range of attractions for families as the Eid holidays got under way.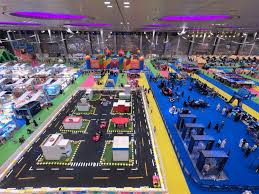 The venue's shopping area has been supplemented by a food market, children's play areas and cultural shows, running through until July 13. The Entertainment City has been organised by QSports in conjunction with the National Tourism Council and is Qatar's biggest summer family entertainment event.
In has come a range of amusement rides, skill games with prizes, a trampoline park, children's driving school, giant play blocks, a 1,000sq.m. ocean ball play area, the country's first InflataPark, the world's largest bouncy castle, a skate park, climbing tower and 45 different food options.
There is also a 6,000sq.m. area dedicated to games and virtual reality and QSports has combined with other attractions operators for content, including Megapolis, Kidz Mondo, E-Blue Gaming, MiniPolis, Virtuosity, Angry Birds Park and Bounce.
Live shows are also under way with TV streaming and contributions from different international embassies, including Georgia, Bangladesh, Indonesia and South Africa.