Following a new partnership with UK-based Entre-Prises and Finland's Augmented Climbing, Clip 'n Climb is now offering the Augmented Climbing Wall to its customers.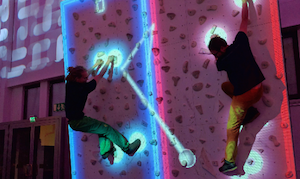 With five pre-installed interactive applications and growing, the Augmented Climbing Wall is actively updated with more games and applications frequently.
The applications are Astromania, which sees players protect the Earth from fireballs, Augmented Problems, which provides video routes and feedbacks, Whack-a-bat, a gamified endurance trainer, Sparks, a set of mazes with static and moving levels, and Climball, a two-player ball game.
The package includes an option for shades in high-luminosity environments, a marketing and online service toolkit, cloud operation and administration tools, performance data, remote servicing, ad-platform and support.
The company has also introduced the Climbing Traverse and Quick Jump Tower in collaboration with HeadRush Technologies. The Climbing Traverse is a wall with a maximum height of four metres. Speed timers can be incorporated for an extra competitive element. The Quick Jump Tower offers two climbing lines using a wooden mosaic system with TruBlue Auto Belays.