Chuck E Cheese's has launched its All You Can Play initiative, in what the company believes is a first-of-its-kind gaming experience, at company-owned locations across the US.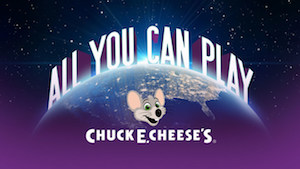 The concept allows guests to buy time instead of tokens or play points to play all games, any day of the week, with no restrictions. The cost will start at US$9 for 30 minutes.
"At Chuck E Cheese's, we believe in the power of play," said Ashley Zickefoose, chief marketing and concept officer of CEC Entertainment, owner of the brand. "All You Can Play provides a rewarding way to infuse more play into every day by limiting the restrictions caused by budgets and busy schedules."
All You Can Play is the third of several initiatives coming from the FEC brand this year, including its new loyalty programme, More Cheese Rewards and nationwide third-party delivery.