With 600 stores in North America and 90 in 17 other countries, restaurant and FEC chain Chuck E Cheese (CEC) is now planning to expand rapidly in the international market.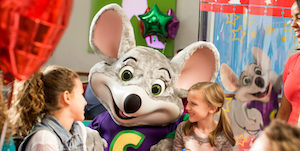 The company said that it will focus on South America and the Middle East with the expansion plans, in addition to the recent announcements of openings in Egypt, Morocco, Romania and Kuwait.
The company is now adding locations in Qatar, the Caribbean, Guyana and Suriname to its list of global franchises.
Arun Barnes, senior vice president (international) at CEC, said: "Investors and entrepreneurs continue to recognise Chuck E Cheese as a high ROI opportunity within their local markets. With a unique business model that is unmatched in the FEC landscape, we are the brand that can have an immediate impact in almost any country around the globe, while providing a reliable cashflow for franchise partners who have a passion for family entertainment."
Joanna Rostant of Yay! Entertainment in Trinidad and Tobago confirmed, via Newswire, plans to expand the brand through sub-franchising into Guyana and Suriname, with the first location in Suriname under construction and due to open early in 2022.
Barnes added: "It makes sense for Caribbean markets," and went on to announce new partnerships elsewhere, notably with Benchmark Hospitality Services in Qatar for multiple locations.
Yanni Jouaneh, of Benchmark, said: "CEC has great systems and processes to support international franchising and our business feasibility survey of the brand showcased a unique opportunity to bring in a highly profitable brand into Qatar's market landscape. There is no other brand that offers [as] great [a] mix of games, food, entertainment and birthday parties."