The award for Best Product at the Irish Gaming Show in Dublin last week went to Carnaby Gaming Machines for its Dracula cabinet.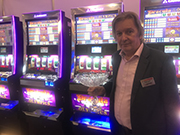 The company's managing director, Derek Lynch, accepted the award and later said: "This was developed specifically for the Irish market. Analogue machines are still very popular in Ireland but we have added some of the features you typically associate with digital machines and it has proven an effective hybrid."
He said that 60-70 per cent of machines in a given Irish gaming site are still live reels, "so what we wanted to do is introduced features of the video product into the reel machine."
As a result the company came up with the "scatter" feature, which means that if the player gets three gold coins surrounded by bats (in keeping with the Dracula theme) anywhere on the screen, not just the middle section, the player gets a win of five and 10 free spins, a dynamic that is traditionally associated with the digital market.
He said that this has proven so successful in the country that more than 50 per cent of the machines the company now has in Ireland are Draculas.