Bob's Space Racers' creativity in multi-player amusement devices has switched focus – to hand sanitisers.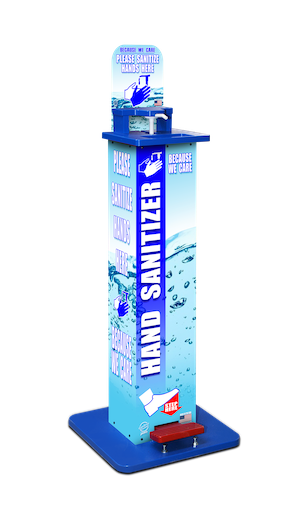 The company has launched a range of hands-free sanitisers designed specifically for the amusement and theme parks industry to help combat the spread of coronavirus.
Said the company: "We realise that the safety of every individual is of the utmost importance and for this reason, BSR ha developed the Hands-Free Sanitizer Station."
The range comes with a standard model that is foot-pedal operated. There is an alternative with the venue's own logo and another with complete custom graphics. It has adjustable sanitiser output, removable drip tray and the unit is easy to refill and clean. The sanitiser is all-mechanical operation and no power is needed and there are no sensor issues. Each model comes with a reusable one-gallon container of solution.
The unit measures 16 inches square and has a height of just short of 49 inches. The company says that each gallon container will dispense 600-plus pumps of fluid and that represents 400 to 700 per cent savings on sanitiser solution compared with other gallon dispensers.