The company running the historic Brighton Pier in England, with its extensive attractions and FEC, has released Covid-impacted results for the 2020-21 year.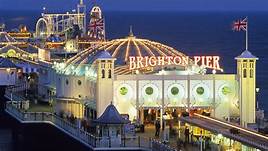 The formal results will be released at the end of the month, but preliminary figures confirm that during the pandemic The Brighton Pier Group took £5m in business interruption insurance claims relating to losses incurred to the end of June this year.
Earnings for the full year are expected to be £2m higher than market expectations as a result of the insurance receipts. It also reports that the first 13 weeks of the new financial year have "started strongly." This is down to good summer weather, school holidays and bank holidays. But these factors have been helped by a pent-up demand, a stockpile of disposable income and other influences.
The company also had the benefit of some income from the newly-acquired Lightwater Valley theme park. Its attractions, led by the mini golf sites and its F&B outlets, reopened on May 17.
All four of its divisions are now open and were operating during the most recent quarter to the end of September, attracting net sales of £15.9m, 145 per cent up on the same period of 2020 and 44 per cent up on the same pre-Covid period in 2019.
Like-for-like sales at the pier were up 47 per cent on 2020 and 14 per cent on 2019 and the golf sites were up 119 per cent on 2020 and 30 per cent on 2019.