Bowl Expo was held for two days last week and was credited by attendees as a major success.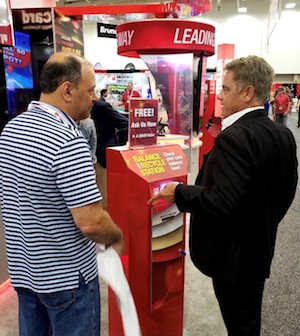 It was the first face-to-face meet-up for the North American amusement machines industry in well over a year. It was held in Louisville, Kentucky, on Wednesday and Thursday.
Reports coming from the show suggest that visitors numbers were down on what might normally be expected for the event. This is put down to several factors, the absence of international travellers, US operators feeling the pinch after a year of inactivity or just concerns about mixing so soon after the pandemic.
The trade association, the BPAA, felt very positive about the show, however. One of its directors, Frank Desocio said that visitor numbers and exhibitors were about 80 per cent of what would normally be expected at the show.
But he emphasised that both bowling operators and the suppliers of equipment at the event were just thankful that they could at last meet up. "There is no doubt that they do more business face-to-face than through a Zoom meeting or something similar.
Desocio noted that those parts of the country where bowling is back to normal were enjoying high levels of business, although anti-virus measures were still in place in some areas. He said: "The bowling business is off the charts across the country; even the operators who just opened ore recently. We have operators in Florida who are recording record revenues."
Among the exhibitors was LAI Games and its Allison Timberlake commented: "It was a fantastic show! It had a very upbeat atmosphere with the recovery in full swing. We had great interest in our new games and many sales were made."
Another exhibitor, Intercard, reported a similar optimistic atmosphere. President Scott Sherrod (pictured on his stand talking with a customer) told InterGame: "There were more qualified buyers than any Bowl Expo we have been to in the past, so we were very happy with the show turnout. We saw a few attendees from California, but the majority of our visitors were from the east coast and mid-west. Louisville isn't the easiest city to fly into so there were a lot of folks who drove to the show. "The headliner of the general session on the first day of Bowl Expo was comedian Jeff Foxworthy, he was hysterical and a huge hit so the show started out great."
The US trade is now preparing for the first major amusement games event of the year, Amusement Expo International, set for Las Vegas, on Wednesday/Thursday this week.