BoldMove Nation has expanded its Houba family with the addition of Houba Discovery Store+, a new concept that combines retail with entertainment.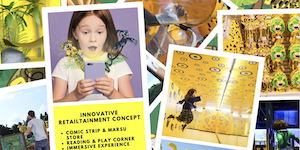 Dubbed "retailtainment" by the company, the new version of its offering has been developed in partnership with France-based "Celebrating Life" consortium of industry experts.
Houba Discovery Store+ blends mainstream retail with an "Immersive Bubble" fun zone, featuring Marsupilami merchandising.
It also houses a selection of compact, mostly media-based attractions with a workshop area, designed to somewhat emulate social networks - such as the photo booth zone, but more importantly to attract customers.
Benoit Cornet, creative and technology visionary at BoldMove, said: "Our Houba concepts are not just another playground or FEC concept, they bring together innovative yet also appropriate technologies in an immersive all-family experience.
"We develop compelling stories around each attraction and across the entire premises, fuelled with dynamic media content, interactive, AR/VR technologies. The intention is for everyone to simply have fun and enjoy their time together, bolstering family and sustainability values."