BANDAI NAMCO Amusement Europe presented a range of new products at this year's IAAPA Expo in Orlando, US, including its own Red Zone Rush and several on behalf of its clients.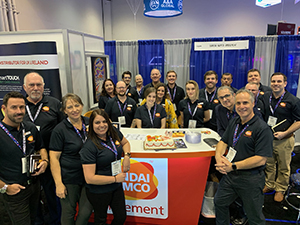 Red Zone Rush lets users take charge of an NFL licensed player to try to push dozens of miniature footballs into the end zone. Any ball in the end zone is a win but players can also try to push balls with letters on them to spell "Touchdown" for a bonus.
Pac-Man Pixel Bash cabinet offers 31 classic games and is now available as a cocktail machine as well as a charity cabinet, which offers operators the chance to give the games' income to charity, alongside the cabinet's supplier.
The new offering from Raw Thrills and Play Mechanix was Nitro Trucks, in which players drive one of 14 souped-up racing trucks around six international tracks. Players can drive upgraded trucks by winning races and scoring extra credit, as well as picking up nitro boosters around the track. A roll cage, 5.1 surround-sound, force-feedback steering wheel, lighting and a player-facing camera make it an attractive cabinet.
Staying with the high-octane theme, Adrenaline Amusements released Hot Wheels. The racing game gives players six cars to race around three tracks. Each race lasts 60 seconds and allows up to six players to face off against each other and the more players, the more tickets they stand to win.
The show also saw Jurassic World Island Escape from Andamiro make its debut. This two-person redemption game puts players in the heart of the action, where they must take control of a 4x4 on a sliding mechanism, using skill to land on the target and escape from the dinosaur-infested island.
The company exhibited the latest from Embed's payment systems, including what it describes as the first-to-market Mobile Wallet for the arcade industry. The virtual game card can be added to the Apple Wallet and Google Pay and used to seamlessly play games. It has the same functionality as a game card but sits in the guest's mobile wallet, enabling them to tap and reload without leaving the game. The new virtual card should boost return visits and allow operators to gain insight into customer behaviour, usage and spend habits.