BANDAI NAMCO Amusement Europe is putting the latest game from Canadian game maker Adrenaline Amusements, Hot Wheels: King of the Road, through its paces ahead of its global launch.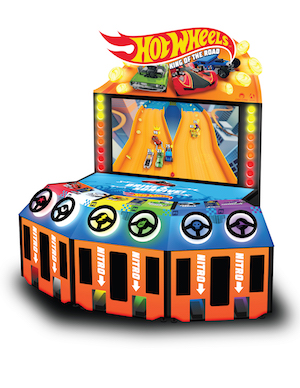 The racing game allows players to take control of one of six iconic cars, competing with friends around three tracks, and the more people that play at once, the more tickets they can win.
The title features jumps, loops and stunts and allows players to face off against each other in a bid for the finish line. The game's 60-second races makes for a high-intensity gameplay, which is designed to attract attention on location.
"Hot Wheels is expected to race ahead of its competitors as it hits the EU market, delivering an unbeatable gaming experience with a real-world competitive element," said Francois Lachance, CEO of Adrenaline Amusements.
"The more players that jump on the track, the more there is to win and with six iconic vehicles being integrated into this latest racing title, players can now take control of cars they recognize on tracks that will keep them on the edges of their seats."
James Anderson, commercial and sales director of BNAE, said "We are extremely excited to start testing Hot Wheels: King of the Road in the EU, having tried an early version of the game, I could see a competitive and fun element in it for players to compete for tickets. Add this to the globally-strong Hot Wheels brand and the income expectations are very high."