BANDAI NAMCO Amusement Europe felt justified in keeping its cards close to its chest in the run-in to the US-based IAAPA show in Orlando, Florida, last week.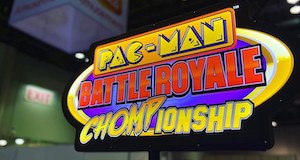 "Instead of the ever-tantalising ankle-flashing promises of "big news," we felt the industry could hold its breath a little longer and see the whole shebang," said the company.
Pac-Man shined again, it seems, surmounting the Pac-Man Pixel Bash, a Pac-Man Battle Royale Chompionship, as it was called.
It was a skill-based ball throwing game - actually, the balls were "power pellets" aimed at Pac-Man's mouth and appearing virtually on the screen in a "plinko-style" game.
The pedestal cabinet for the "Chompionship" game is coming up early on next year as an update kit for existing machines, offering an eight-player experience. It will come with new power-ups, mazes and the usual features making up a game packed with Pac-Man fun.
The DC licence held by BNAE brought out the new Harley Quinn's Mallet Mayhem that arrived just as IAAPA was opening. The whack-game came from the BNAE headquarters team and was developed with partners.
James Anderson, commercial and sales manager, said: "Our product development team had been working on Mayhem over the Covid-19 period and we are still tweaking some elements, but we will have this in production shortly.
"There was solid demand for it at the show. It is a game of frantic fun that also sparks community spirit as players work together to increase the bonus payout."
Both Anderson and international sales manager Stuart Wood emphasised the importance of the face-to-face interaction that had been so badly missed in the industry. "To hear that many customers and distributors have been working very hard in redeveloping their businesses and taking their FECs to the next level, along with our many projects in the pipeline, surely makes for a super-charged 2022," said Wood.