Over 50 per cent of the leasable space in the new Al Qana development at Abu Dhabi, UAE, is to be taken up by entertainment and leisure facilities.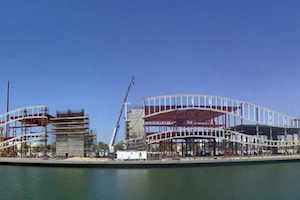 Work is already under way on the complex due to open at the end of next year.
The project will have nearly 2.5km of waterfront restaurants and entertainment outlets with a skate park and landscaped gardens and fitness areas. It will also have a virtual reality zone, marina and a major cinema complex, plus the largest aquarium in the Middle East.
The project is being put together by Al Barakah International Investment, the CEO of which, Fouad Mashal, said: "It will attract over 150 high-quality and original concepts in 11 blocks with a total gross leasable area of 60,000sq.m. We want to create a vibrant ecosystem for businesses, whether they are food and beverage providers, recreational outlets or wellness hubs."