Big Cedar Lodge, a US-based wilderness resort located in the Ozark Mountains near the state of Missouri, is debuting an outdoor Sky Trail Explorer attraction from Ropes Courses this summer.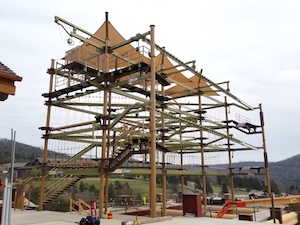 The multi-level attraction stands at around 40ft tall and contains over 60 different elements such as a rolling log, swaying ladder, and narrow balancing beam. Every participant wears a safety harness that is inserted into the overhead tracking system to assure a safe adventure. Without ever unhooking their safety harness from the system, participants can grasp ropes and railings as they make their way through the course.
The four-storey Sky Trail Explorer ropes course is located on the back of the Fun Mountain area on 4,600 acres settled on Big Cedar Lodge. It includes two electronic Sky Rail zip lines that allow participants to zip over the attractions below. Participants can also try the Quickjump free fall from a platform at the top of the ropes course. This course joins the kid-sized Sky Tykes course that was built last year on the site and is specifically designed for smaller children aged two to seven or under 48ins tall.
"We want Fun Mountain visitors to experience the beauty of the Ozarks in a whole new way that is unlike anything else in the region," said Johnny Morris, founder and owner of Big Cedar Lodge. "With live alligators and pythons living beneath this four-storey wonder, it's sure to elevate the challenge and thrill of the ropes course, while being perfectly safe."
The new Sky Trail Explorer was built by Michigan-based Ropes Courses.
"We have had the privilege of building our attractions in many beautiful places around the world, but this spectacular setting in the midst of the Ozarks has been one of our most visually stunning locations," said Jim Liggett, founder and owner of the company. "We love projects that allow us to integrate with a beautiful natural environment—we hope it makes the experience that much more appealing for visitors and guests."