The popular US-based skiing destination Big Bear Snow Play has added Ropes Courses' Sky Trail aerial attraction to its line-up and will be open to the public "within the next week."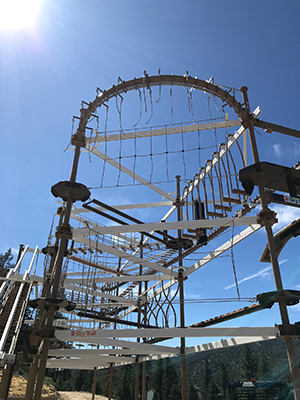 Located in the southern California city of Big Bear Lake, the location is known for its winter-related family fun, though the facility also features a go-kart track that can be enjoyed in warmer weather.
Standing at 36ft, the new attraction consists of over 30 elements, including cargo nets, a variety of bridges and swinging steps for participants to make their way across at whatever pace is most comfortable.
For more daring participants, there is also a "walk the plank" element where individuals can step out onto a 6ins wide beam without the use of handrails to test their bravery.
"This attraction will not only keep our guests entertained and challenged but it will also allow our facility to diversify its outdoor offerings by providing all season recreation for the whole family," said Scott Voigt, director of operations for Big Bear Snow Play.
Outfitted with a natural colour scheme to match Big Bear's forest-filled backdrop, the Sky Trail attraction will be located in its own area near the go-kart track and will remain open year-round.