A brand new FEC has opened in the heart of Germany's capital.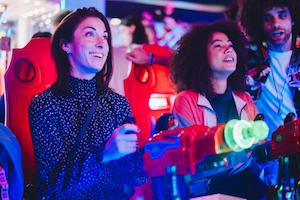 Gamestate has opened its doors at The Playce, Potsdamer Platz, one of the busiest areas in Berlin.
It features over 70 arcade games, including favourites such as Mario Kart and air hockey, whilst there is also a King Kong VR attraction. Customers will also be able to score points with NBA Hoops Basketball and test their dance moves on two dance machines.
Measuring 1,100sq.m, the new location is the largest arcade in the city and Gamestate's largest venue in Europe.
Entry is free and open to anyone aged 12 and above, but those under 18 must be accompanied by an adult.
Rob Veltmeijer, CEO of Veltmeijer Group and operator of Gamestate, said: "Berlin is an exciting place and has always radiated fascination – especially in the area of entertainment. Our wide range of leisure activities in a centrally located location will allow Berliners and visitors to the city to have a lot of fun and a carefree time."