After a brief hiatus in the release of new machines at last year's IAAPA Expo in Orlando, Bay Tek Entertainment is set to launch two new redemption machines at next month's DEAL show in Dubai.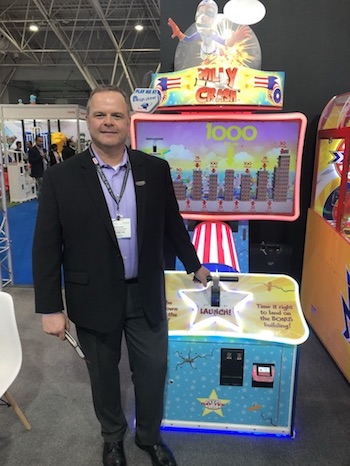 InterGame caught up with international sales manager Mark Lenske (pictured) during a rare lull at the recent SEA Expo in Riyadh, Saudi Arabia, and while he was predictably tight-lipped about any major details on the releases, he did say the company was confident that Minions Carnival Chaos and Hypernova will be hits.
The redesign of its iconic Skee-Ball with the new Classic and Glow models took centre stage on its booth at the big 2019 show and the industry response was overwhelmingly positive, but at an event that was characterised by the sheer number of new products on display, Bay Tek ploughed a seemingly lone furrow.
"It was certainly not through any lack of activity!" assured Lenske. "Our product development team is tasked with coming up with 30 new product ideas a month with the goal of one test game being developed.
"Some may end up as whitewood products (a rough, wooden cabinet, without graphics or other artwork) or prototypes and from these we might select three or four that we'll want to develop into a more refined example, put out on test and see what happens.
"Sometimes you get three or four winners in a row and you've got a lot of product to launch and other times you have fewer and those that aren't quite right fall by the wayside. So it's a specific and measured process that we go through; we don't want to force products into the market for the sake of it, that's not good for anyone.
"It's a long process and is hit and miss. Our goal at Bay Tek is to have four to six games per year. Sometimes we exceed that number, sometimes we fall short, but that's fine with us; we just want to make great games for our customers.
"Historically this process has worked well and its part of what creates our track record and strong reputation. People appreciate that. We get asked all the time, 'what do you have new?' It's a challenge but we're used to it and it keeps us going."
Since IAAPA, said Lenske, the Skee-Ball relaunch has been extremely encouraging. "The brand and the game has a passionate following in the US, but what we want to do now is to grow more internationally, that's why we're here in Saudi. But it isn't just here, we're looking at Europe and Asia too. The latter is a very fluid market right now and we're already made headway there. Our marketing and brand managers are really making an effort to spread the word and we're optimistic that we can grow the recognition of the brand in more regions across the world."