Earlier this month, InterGame reported that BANDAI NAMCO Amusement had revealed plans to open a new VR concept in Tokyo, Japan called Mazaria. The company has now released full details of the venue.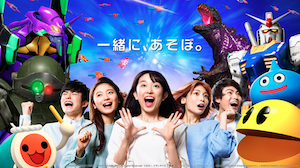 The third floor of Ikebukuro's Sunshine City complex will house the new centre that promises to allow guests to "enter the world of anime and games."
The location previously housed BANDAI NAMCO's J-World Tokyo and formed half of the Namjatown theme park, which still operates on the second floor of the building.
Mazaria, which is derived from the Japanese verb "mazariau," meaning "mixing," opens on July 12 and will be split into four distinct zones.
The Festival Zone includes, Pac-Man Challenge, Panic Cube, Taiko no Tatsujin VR Dadon and Mario Kart Arcade GP VR.
Adventure Zone offers Dragon Quest VR, Hanechari (Winged Bicycle), Fishing VR Gijiesta, Ski Rodeo, Rapid River and Armored Trooper Votoms Battling Dudes.
The Panic Zone will attempt to scare its guests with Despair Jungle, The Big Fear of Heights Experience, Hardcall and Hospital Omega.
The Sci-Fi Zone features Evangelion VR: The Throne of Souls Berserk, Gundam VR Diver Attack, Godzilla VR and Galaga Fever.