The tropical island of Bali will soon to be able to boast a new FEC/indoor amusement park thanks to Indonesian operator, Trans Studio.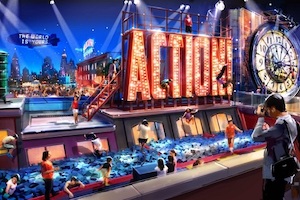 Trans Studio Bali, scheduled to be open by the end of 2019, will feature a rooftop Boomerang rollercoaster from Vekoma and a new 'stunt show dark ride', to be known as Road Rage, among its signature attractions, according to Australasian Leisure Management.
Parent company, CT Corp is an Indonesian group that is involved in media and malls development and Trans Studio has used this experience to design and produce Road Rage.
The operator has collaborated with Hollywood-based Legacy Entertainment which is combining a dynamic ride system from Oceaneering paired with a musical score by Benoit Jutras, a composer with Cirque du Soleil and Dragone, a similar production company.
Lee Roe, Legacy's creative director for the project, recently explained: "For the first time ever, visitors to an Indonesian theme park will experience a dark ride that exceeds those in many of the world's top international theme parks."
This follows the news earlier this month that the Trans Studio Cibubur theme park near Indonesia's capital city of Jakarta is also nearing its launch date. The indoor park's star attraction, Pacific Rim: Shatterdome Strike is another dark ride based on the motion picture franchise from Legendary Entertainment.
Trans Studio has built and operates numerous KidCity family entertainment centers in its TransMart shopping centers around the country. It has also opened the first indoor snow and ski park in Indonesia.