The top amusement and attractions industry in the Middle East will again be placed under the scrutiny of a panel of international judges for the second annual Awards held by the trade association MENALAC.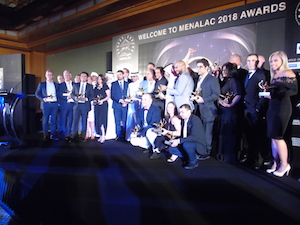 The Middle East trade organisation will host its prestigious Awards Night on Tuesday March 26, during the DEAL trade show in Dubai, UAE. It will probably be at the Ritz-Carlton Hotel once more.
It was a much-applauded glittering occasion when the Awards Night was held for the first time in 2018. This year, says MENALAC administrator Nawal Zioui, there would be additional categories added to the dozen-or-so that were presented at the first Awards Night.
Initial contact with the panel of judges – all drawn from the industry – went out last week and the competition will be open to entries from December this year, in order to give operators more time to prepare their entries.