A number of attractions have been unveiled for a new theme park set to open in Glendale, Arizona next year.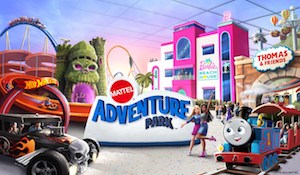 The Mattel Adventure Park will offer themed attractions from some of the company's most popular brands including Hot Wheels, Thomas the Tank Engine and Barbie.
Developed by Epic Resort Destinations, the park will include Thomas Adventure Train: Treasure Hunt, which will allow families to talk to the famous train and his friends before embarking on a real-life Thomas-themed electric train. There will also be a 4D ride themed on Hot Wheels, which will take guests behind the wheel of a custom designed car.
Italian manufacturer Zamperla will contribute five family-friendly amusement rides to the park. A nine-hole mini-golf experience is also on-site, as well as a laser tag arena, among many other attractions.
Epic Resort Destinations president Mark Cornell said: "We share a pioneering vision in collaborating with Mattel to develop a world class, primarily indoor, theme park destination.
"Our innovative and impactful park design has been fully leveraged through strategic partnerships.
"The output of these partnerships has enabled us to create an extraordinary immersive branded theme park experience."