This year, with its theme of "sportive cities are more fun." Turkish show Atrax (November 30- December 2) drew attention to attractions, events and recreational areas that require active physical involvement.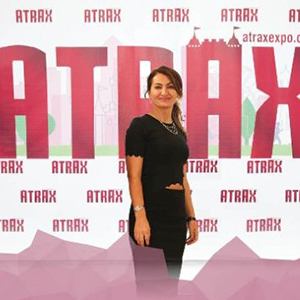 The initiative is a reflection of the new trend which integrates sports into new generation attraction and recreational areas.
The Atrax team carried out promotional campaigns as a reflection of the local government's new mission to offer more recreational sport options for its citizens.
Nergis Aslan, general manager of Tureks, the company which organises Atrax, said: "We've received very positive feedback and created great repercussions. And based on this great feedback, we've decided to use the same theme in 2017 as well."
This year's Shining Star Awards, an event Tureks also organises as part of Atrax, featured new categories such as sportive city of the year, Sportive district of the year, sports event of the year and sports supporter of the year.
Picture: Nergis Aslan, general manager of Tureks