The Middle East's largest amusement games distribution company, ASI, took a very large stand at the Saudi Entertainment and Amusement Expo that enters its third and final day today (Tuesday).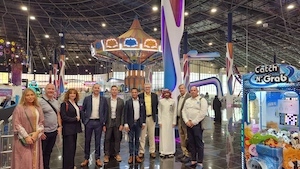 The Dubai company's general manager, Prakash Vivekanand, commented as the second day got under way yesterday: "We had a fantastic opening day. There was a steady influx of visitors, reflecting the vast interest in the region's already announced projects.
"Undoubtedly, the kingdom is poised to become a significant business hub for the leisure and entertainment business in the region.
"We had a great response to the products on display. Just one area for improvement would be to run the event as a dedicated trade only show rather than an event open to all visitors. We're looking forward to another packed day at the show."
Vivekanand is pictured on ASI's big stand, with a line-up of leading personalities from the supply industry for whom his company is the local distributor.