The latest location for Funlab's Archie Brothers Cirque Electriq in Brisbane, Australia is set to open mid-November.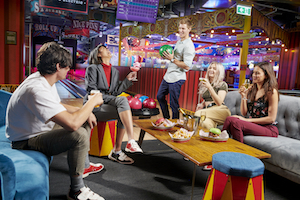 The Toombul Shopping Centre in the suburb of the Queensland city will house the circus-themed FEC, which will offer a variety of arcade games, dodgems, bowling, VR and a XD motion theatre.
Tickets won on the redemption machines can be traded in for an array of unique prizes including pop vinyls, gaming consoles and '90s retro paraphernalia. The Archie Brothers interior design will aim to bring the circus feel to its guests, with red velvet curtains on entry leading to the main area and the scent of popcorn and candy floss mixing with a soundtrack of DJ-spun music
The cocktail bar serving visitors will be built to resemble a vintage carousel and will be a focal point of the room. Booth seating will be modelled around the cars from classic theme park rides such as the Teacup ride. The drinks produced from it will be a range of brand-new ''loaded" shakes and cocktails.
Brisbane is the third Archie Brothers location in Australia. Alexandria, Sydney, opened in December 2017 and Docklands, Melbourne, opened in October 2018. The official launch date of Brisbane will be announced soon.