The DEAL expo has been showcasing amusement machines for the last 25 years and for the most recent ten of those, Apple Industries has been active there.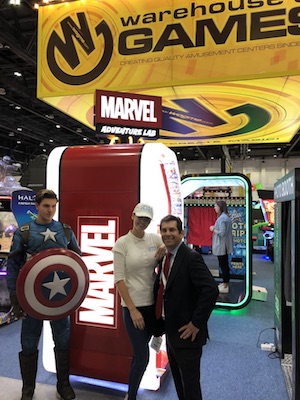 2019 was no different as CEO Allen Weisberg was on hand at the World Trade Centre with the US outfit's range of popular photo booths.
"I started coming to DEAL ten years ago just by myself and built our market up here to what it is today, so it's like my own little baby. I have a lot of friends here, so it's a show I like to go to," said Weisberg.
"The Middle East has been a very good market to us and second only to the US. We have so many opportunities here, not least those offered by the opening up of the cinema market in Saudi Arabia. I remember when this show was 25 per cent was it is now. When it was smaller it seemed like it was busier but I think it's just because there's so many exhibitors now and the same amount of visitors are just spread out more."
Weisberg went on to explain that the different regions Apple serves are subject to changes in their appearance depending on where they will be operated.
"There's differences to all markets and we do different things with most products but the Marvel Adventure Lab for example is universal and there's nothing we have to change with it. I was just talking to a customer from Iraq and they love US products and brands as crazy as it might sound given recent history."
"But with some of our other products, the graphics are different and in other regions we'll change the images used dependant on the territorial requirements, so, different skin colours for example, all to tailor machines to the particular market."
At DEAL, Weisberg was busy showing off the hugely successful Marvel Adventure Lab along with other products including the Photo Studio Deluxe and The Movie Booth.
Image: Watched over by Avenger, Captain America is Petra Eftimie and Apple Industries CEO, Allen Weisberg