The central structure of Gravity, a 60ft flight tower facility produced by Hangfast, is now complete.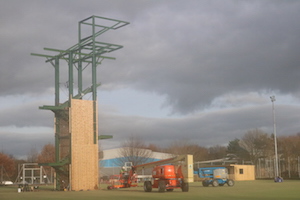 The facility, located at Salt Ayre Leisure Centre in Lancaster, UK, is a multi-level outdoor tower that will see visitors invited to leap from the top, named The Drop. There are various ways of descent, including abseil, zip-line or free fall.
Phase one of the regeneration of Salt Ayre Leisure Centre was completed in October 2016 and saw the introduction of a new XHeight climbing wall, Energy indoor soft play centre and cafe.
Founder and director of Hangfast, John Beers, said: "Over the next few weeks, our team of dedicated engineers will be working hard to put the finishing touches in place to ensure that visitors enjoy the ultimate adrenaline-packed experience. Gravity at Salt Ayre will be a European first and it's important that the structure is as visually exciting as it is to jump off."
The location is set to launch next month.