A report on the impact of the pandemic on the entertainment industry has been compiled by debit card management systems company Sacoa.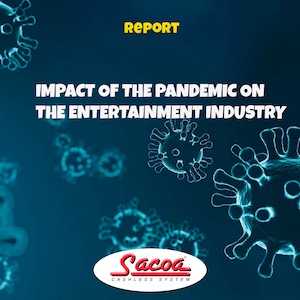 The company surveyed operators from different countries to draw up a picture of the impact of COVID- 19 on the industry with the objective of providing the industry with background that will be of interest and useful to make decisions relating to the pandemic.
The report was returned by 28.9 percent arcade operators, 40.8 percent FEC, 21.1 percent theme park and the rest split between trampoline parks, bowling, amusement park and 'other'. Geographically, 25 percent were in North America, 5.3 percent in Asia, 2.6 percent in Europe, 55.3 South America and Caribbean, 3.9 Oceania and 7.9 Africa.
Most, 69.7 percent reported that they had not yet resumed activities. 31.6 percent said that they had partially reopened and 6.6 percent were fully operational. The largest section, 42.1 percent, felt it would be six months to one year to resume normal activity, but a significant proportion (25 percent) felt it would be more than a year.
Most, nearly three-quarters reported that they had protocols for safety and hygiene in place, with nearly half saying that they had developed their own protocols. Online sales for the majority of respondents either did not start until the lockdown began or still don't have it and most believe that they will not experience more online sales as a result of the pandemic.
Two-thirds of respondents said that they either have taken, or will take, measures to favour contactless payments. The largest sector, 46 per cent will cut their annual technology budget and 62 per cent will cut their machine purchasing budget. Views on marketing are evenly split.
The majority, 83 per cent said that they would have to reinforce sanitary protocols as the leading change that they would have to make, while 63 per cent said that they would have to rearrange machines; others said that they would need to adopt contactless and/or implement online bookings.
Workforces will be cut up to 70 per cent by one-third of respondents, up to half by 21 per cent and only 16 per cent are not reducing staffing.