Alterface has partnered with Madgix, creators of gamification and entertainment concepts, to offer Madgix Screenplay Kit, which turns a traditional screen experience, like a cinema, into an interactive game.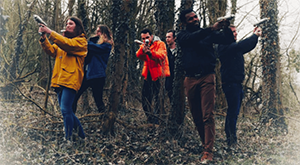 Set for its worldwide launch this month, the Madgix Screenplay Kit offers a new level of interaction to cinemas and attraction venues.
The setup is being presented to industry representatives for the first time presenting at the South by Southwest Festival. The annual get-together in Austin, Texas, US, takes place from March 8-7. The Madgix Screenplay will also make its debut at CinemaCon in Las Vegas and the China Attractions Expo in Beijing. Both the latter events run from April 1-4.
The product was created with the growing interest of gamification in entertainment products in mind.
"For the first time a multi-user interaction Kit is available as open architecture," said Madgix managing director, Thibaut De Lestré. "We are very excited about the great potential this new solution offers to the various markets."
The company is offering a flexible licensing system, supporting a broader variety in games and theming. The accompanying wireless pointing and shooting devices operate through advanced real-time detection technology. This facilitates a new level of game experience.
The laser impacts can be detected on any type of surface that can be seen by a camera: projection screen, front and rear, scenery, LED screens, fog screens and physical props. There are no restrictions on the motion and location of the players.
Furthermore, the wireless devices are able to conduct individual tracking of players. Through this, venue owners can come to understand and know their audience in the room via linking gun ID with loyalty cards or bonus systems.