Belgian company Alterface claimed a Brass Ring Award at the 2021 IAAPA Expo for its Action League product.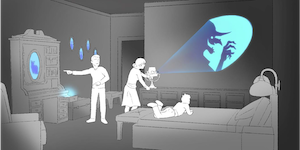 Awarded for Best New Product Concept, the interactive experience finished first place, ahead of feisty competition.
"We at Alterface are extremely proud to receive the Brass Ring Award for Best New Product Concept," said Pim Dams, sales manager at Alterface.
"Action League is a stand-alone attraction where guests will experience a unique mix of tournament, interactive gaming and motion."
Furthermore, Alterface has announced its Wander technology, which enables personal storytelling at the scale of an entertainment venue.
One of its first implementations will be at Studios Occitanie Méditerranée in partnership with video games giant Ubisoft and Storyland Studios.
Another location will be at an educational project at the Dierenrijk family zoo in the Netherlands.