Kees Albers, CEO of Unlimited Leisure, believes that as amusement parks open back up it will be difficult to justify old-fashioned queuing systems.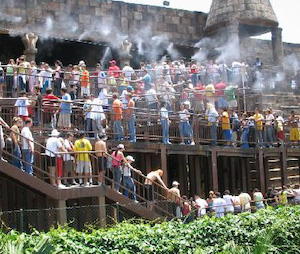 In a blog post, Albers described as "incredible" that long lines have been part of business models for so long and that in the post-Covid-19 era packed queues are unlikely to be socially acceptable.
Albers goes on to The Experience Ticket as a solution to the problem.
He notes: "For say $100, we are promised a day out with a smile on our face, but instead we get the privilege of waiting in queue lines for hours on end. Guests get bored, annoyed, and disappointed. It is a far cry from putting smiles on people's faces. The queuing issue can even be more pressing for indoor parks where queue space is expensive and often not sufficiently available."
His own research and the Omnico Theme Part Barometer showed that what guests wanted the most was to pre-book the trip; reserve a specific time-slot for each attraction; plan and control the visit through a smart phone; have a personalised experience; and no lines.
"Every time I now walk down the streets in my busy home town, I notice people going out of their way to avoid getting too close to others. Some are waiting outside shops behind 1.5-metre markings on the pavement when the maximum number of people inside the shops has been reached. Inside the supermarket the use of a cart to keep distance is mandatory and often people are waiting for an aisle to clear. Welcome to what presently is the 'new normal'."
Albers points out that parks are now reopening, but initially with 20 to 25 per cent lower capacity which means less revenue and longer lines because of the social distancing markers. He questions how parks can survive with this problem long-term. Some of the solutions are short-term and often cosmetic.
Times of crisis, he says, often lead to times of innovation. Apps provide general gate admission times but do not stop lines at individual rides once inside.
"So-called virtual queuing comes at a price and has so far only been able to cover some of the rides for some of the visitors. One solution is The Experience Ticket. At The Experience Ticket.com can be found a means to eliminate queues altogether by allocating time slots; it will optimise park capacity; spreads out visitors and shows where they are; enables daily park planning; and can be part of a fully integrated ticketing system.
"A guest will pre-book tickets online; book the date and time for the whole family; enter personal details for marketing and ride eligibility; select the desired rides, shows, restaurants; and the total visit is scheduled."