Ready for the big summer season that will see millions through the Abu International Airport, the location has opened two new children's play areas and five baby-changing facilities.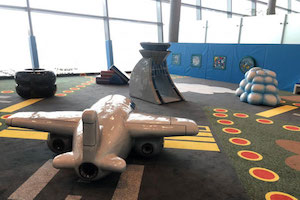 In Terminal 1 there is a cloud slide, airplane on clouds and baggage tug with a tunnel. In Terminal 3 there is another climb-on airplane in the clouds, an air traffic control tower with a tunnel, a cloud tunnel, suitcase slide and tyres to climb upon.
The new changing facilities for parents with babies are in Terminals 1 and 3.
Chief operations officer Ahmed Al Shamisi, said: "The summer is a popular time for families to travel so we are delighted to invite them to visit our new play areas and take advantage of the new changing facilities."