Canadian games developer Adrenaline Amusements is launching its Tomb Raider arcade game worldwide to all of its clients this week.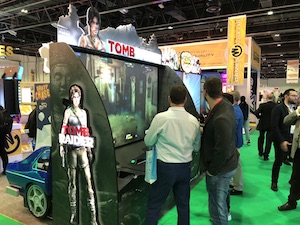 The game, which pays tribute to the Tomb Raider franchise, uses the same 120ins screen cabinet as the firm's previous title, Rabbids Hollywood.
The huge screen size enables up to four players to take part in the adventures of Lara Croft across two chapters totalling 45 minutes. Adrenaline will deliver a third chapter as a free update in August 2018.
"We are extremely proud to have partnered Square Enix/Crystal Dynamics to bring Tomb Raider to the millions of people who simply can't get enough of it," said François Lachance, CEO of Adrenaline Amusements. "The amazing graphics and highly immersive gameplay will offer an unmatched gaming experience that players will want over and over again."
Pictured: Tomb Raider at DEAL 2018