Dubai's Sim Leisure Group has opened another of its Escape brand of attractions.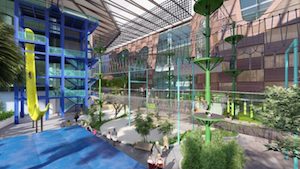 The indoor challenge park last week began operating at the Paradigm Mall in Petaling Jaya, Selangor, Malaysia, reports The Star newspaper.
The park covers 35,000sq.ft and is an indoor version of the Escape Challenge Park in another Malaysian state, Penang. It has 12 adrenaline-pumping activities suitable for both children and adults.
Each of the attractions within the park has variations - the rope course, for example, has 56 obstacles.
Founder and CEO (Chief Escape Officer) of the company, Sim Choo Kheng, said: "Escape Challenge is our brand of retro-eco fun and outdoor play in a contemporary setting. It reflects the synergy between the Escape and partnering malls and developers to bring the outdoors indoors and marks Escape's foray into urban centres.
"This has always been our strategy to propagate Escape's brand to other cities globally. Escape Challenge redefines the concept of FECs based on Escape's ethos of rediscovering childhood play."
Said Selena Chua, CEO of WCT Malls Berhad, operators of the mall: "In today's digital age, children and adults spend more time on their electronic devices rather than being active outdoors. By offering this fully immersive challenge park experience to our shoppers we hope that everyone can enjoy quality time together."