With the GAT Bogota event coming up in September, Novomatic is gearing up with the launch of its Black Edition II cabinet series.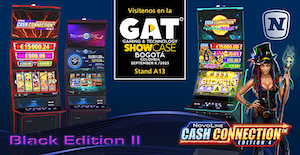 Manuel Del Sol, CEO of Novomatic Gaming Colombia, said: "Our Black Edition II aims to create an environment that offers players an immersive experience, something that can only be fully achieved in the physical environment.
"Although the online and land-based segments share the same activity, they are completely different in terms of behaviour and unique selling propositions. It is essential to embrace these differences to ensure the long-term development and sustainability of both segments."
The cabinet sport angled displays, integrated topper, high-performance sound system, a contrasting LED lighting concept with intelligent colour effects synchronised to the gaming action and a "Black Metro" finish.
Novomatic will also unveil series of linked jackpots: the Impera LinkTM Series 2, the Superia Cash ConnectionTM Volume 2, and the Novo LineTM Cash ConnectionTM Edition four-game mix.
Julian Bernal, sales officer of Novomatic Gaming Colombia, added: "State-of-the-art technology and maximum creativity are the features that will captivate and surprise the players. Our 100% circular signs have already proven successful in the North American market and together with our linked jackpots and Black Edition II cabinets are the ideal solutions for our land-based customers in Colombia and Central America."