Advanced technology for players, operators and slot technicians combines with a new compelling game library in Aristocrat Gaming's all-new cabinet, the MarsX Portrait.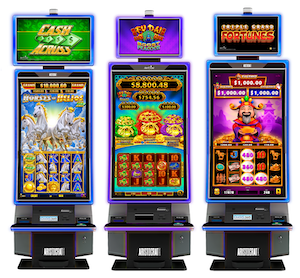 The original MarsX was a breakthrough in cabinet design and instantly became a favourite of players and operators alike. Now, with the MarsX Portrait, Aristocrat has created a new picture of innovation.
MarsX Portrait boasts a wealth of advanced technology that creates a more intuitive and fun gaming experience. Gen9 components drive MarsX Portrait's ability to spin fast and the action plays out on the 43ins curved ultra high-definition monitor, tall enough to allow for exciting growing reels action.
And while the action may be hot, the MarsX Portrait never is, thanks to a specially designed chimney that redirects heat quietly away from both the player and critical components.