The fifth annual Game Congress, held in Torremolinos, Spain from September 14-15, will see the unveiling of MGA's new Magic Compact roulette machine.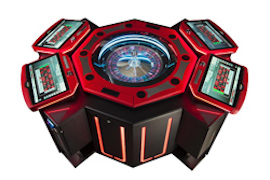 The machine is aimed at operators with restricted space who wish to incorporate a roulette machine.
The Spanish company said the Magic Compact roulette has "all the technical characteristics of her older sister but is significantly smaller in size, making it suitable for arcades with limited space."
Magic Compact keeps the modular concept of models in the company's range and starts from a four-player format. It will also be available in six, eight and 10-player versions with the same compact screen size. The machine's colours have been updated as well, adding a green to the original blue and red.
MGA is betting on high-end peripherals to consolidate its position and success in the market. Famed for its multiplayer roulettes, the company now aims to make its machines a staple in all gambling halls in Spain.
Founded in 1976, MGA was one of the first companies in Spain to introduce a slot machine for the land based betting sector. It also provide gaming solutions for online casinos.