Eclipse Gaming has launched Mermaid Multipliers, the newest theme in the company's 10X Wild Multiplier series.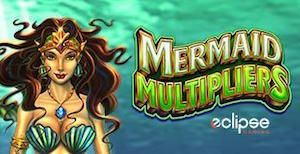 Mermaid Multipliers draws from the same strategies as the company's Super Slots of Cash, combining a casino's need for an authentic three-reel, one-line game that combines volatility with ease of play.
The product features a lucrative top award and five unique wild multipliers, which award up to 10 times the win.
"Super Slots of Cash quickly became a top revenue producer and consistently provides strong returns for our customers, and we believe Mermaid Multipliers will continue this trend," said Boris Amegadjie, Eclipse Gaming's CEO. "Our investment in this product line reflects Eclipse's commitment to provide products that appeal to a variety of players and are successful on both the high limit and main floors of our casino partners."