Big Bola Casinos in Mexico has ordered over 100 machines featuring the two new titles from Zitro: Fu Frog and Fu Pots, presented on the Illusion Glare and Allure Glare cabinets.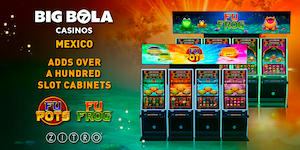 Rafael Blanco, commercial director at Big Bola, said: "We believe that these games will be central to our casino entertainment offerings and we eagerly anticipate seeing how they capture our customers' interest and evoke lasting emotions."
"We appreciate Big Bola Casinos once again for choosing Zitro," said Johnny Viveiros Ortiz, founder of Zitro.
"The unique features of Fu Frog and Fu Pots offer players the chance to win even more amazing prizes, solidifying these games as must-haves on the Illusion Glare and Allure Glare cabinets."