Las Vegas' Stratosphere hotel resort, now renamed The Strat Hotel, Casino and Skypod, has had a US$140m facelift and rebrand – and that has included a full upgrade of its casino floor.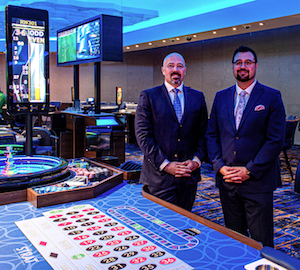 The gaming equipment for the new casino floor has been supplied by TCSJohnHuxley. In comes 40 gaming tables, 31 of them for blackjack, six roulettes and three craps tables, plus six Saturn Glo Roulette Wheels, four Chipper Champ 2 models chipping machines, six Elite 2 the 29ins displays and five pit podiums.
TCSJohnHuxley report that the undertaking was challenging because the work needed to be carried out while the casino was in operation, but the company's team worked closely with The Strat's own staff to keep disruption to a minimum.
Said Brian Stanton, vice president of table games: "TCSJohnHuxley makes state-of-the-art products but it is their attention to detail that sets them apart. When opening for remodelling a casino there are so many moving parts, last minute challenges and changes, so having a company that you can rely upon to get things done correctly, is invaluable."
Pictured: Brian Stanton at The Strat with Steph Nel, TCSJohnHuxley's general manager Americas