Travellers International Hotel Group, which operates Resorts World Manila (pictured) in the Philippines, reported a 46.5 per cent gain in net revenue for Q1, reports Asia Gaming Brief.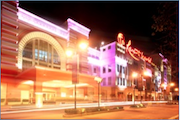 Travellers International is a joint venture between Genting Hong Kong and Alliance Global and operates the Resorts World Manila IR. The increase was helped by gaming and non-gaming activities, though net profit fell as costs rose.
Net profit was P243.4m (US$4.6m), compared to P444m for the same period of 2018.
Net revenues increased to P6,899.1m from P4,710.8m. Gross gaming revenues jumped by 53.8 per cent to P6.89bn, with gaming making up 81.2 per cent of total group revenue.
Promotional allowances more than doubled to P1.59bn. Direct costs increased by 39.5 per cent to P3.57bn, while general and administrative expenses increased by 48 per cent to P2.65bn.